Sunday, December 10th; 4:00pm - 5:30pm Student Performance | 5:30pm - 8pm Dance Party | Billie Holiday Theatre | 1368 Fulton Street
Soul. Life. DANCE!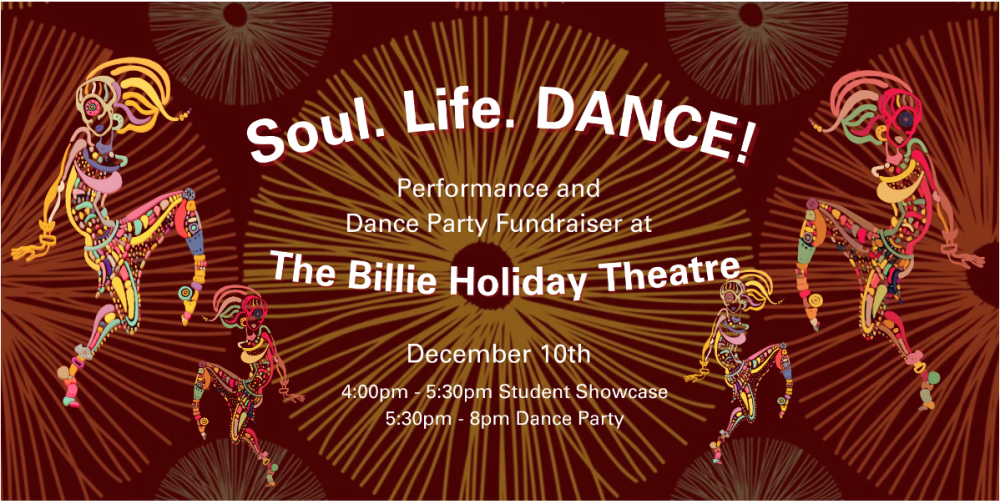 Experience Soul. Life. DANCE! - an electrifying event showcasing the incredible talent of our Dance for Joy students. Picture this: a fusion of vibrant choreography learned in our Dance for Joy series, topped off with a joyous dance party! At Cumbe, they empower students to shine, celebrating their unique abilities alongside teaching artists. It's a testament to their dedication to learning, dance, culture, community, and self-discovery.
Mark your calendars for Sunday, December 10th at the Billie Holiday Theatre. Dance for Joy students will take you on a rhythmic journey through Africa and its diaspora, exploring the beats of the Ivory Coast, Haiti, Brazil, and the U.S. It's an exhilarating celebration you won't want to miss!
After student performances, get ready for the ultimate after-party fundraiser! DJ Sabine Blaizin will set the mood, inviting you to hit the dance floor and experience pure joy. Secure your ticket now and join us at Soul. Life. DANCE! for an unforgettable celebration of movement and music.