Every year in Mexico City, tens of thousands of music fans flock to Vive Latino, one of Latin America's biggest music festivals. Cutting edge artists from across the Americas and beyond perform on four massive stages, showcasing some of the most exciting new music being made anywhere today. For the first time, Afropop Worldwide makes a pilgrimage to the biggest city in the Western Hemisphere to bring listeners a taste of the festival. We experience local legends Cafe Tacvba as they perform to 60,000 hysterical fans singing along to every word, the refreshing alt-norteño of Juan Cirerol, soul-stirring tunes from the captivating Carla Morrison, and driving electro-cumbia from Sonido San Francisco, just to name a few. Plus, exclusive interviews with Venezuelan disco-punkers La Vida Boheme, psychedelic Chilean sensation Astro, and Hello Seahorse frontwoman Lo Blondo. [Produced by Marlon Bishop. Originally aired 05-07-2012]
Featured Artists:
Carla Morrison is a Mexican singer/writer from Tecate, in Baja California. Starting her music career in the mid 2000's, she has since played in both bands and as a solo artist, receiving extensive praise for both.
A principle example of the burgeoning "Alt-Norteña" scene that is remaking Mexican corrido music, Juan Cirerol's impassioned playing and well-crafted lyrics have earned him the title of "El Poeta del Pueblo."
Psychedelic day-glo synthed out funfest? You betcha! The Chilean Band Astro brings some serious fried pop goodness.
A collaboration between Cyprus Hill's percussionist Eric Bobo and DJ Latin Bitman, Ritmo Machine have crafted their own hard hitting take on Latin Rhythm and Hip-Hop Swagger.
Venezuelan alternative rock band La Vida Boheme has exploded in popularity over the last few years. Started in 2007, their first full-length album, Nuestra, was nominated for two Latin Grammys.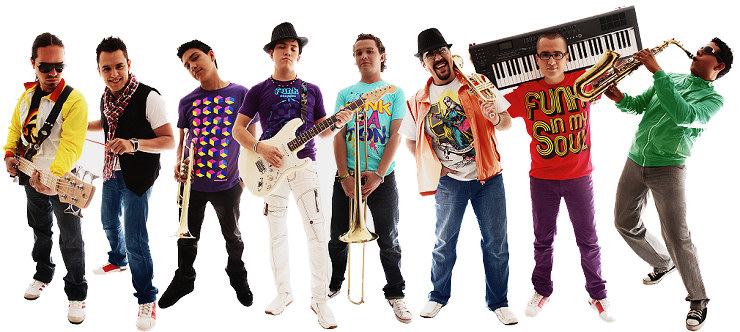 An eight-piece funk/disco band from Mexico City, Mamastroficos released their first CD, "En Formato Normal", produced by Mauricio Arcas from Grammy-award winners Los Amigos Invisibles.
Mex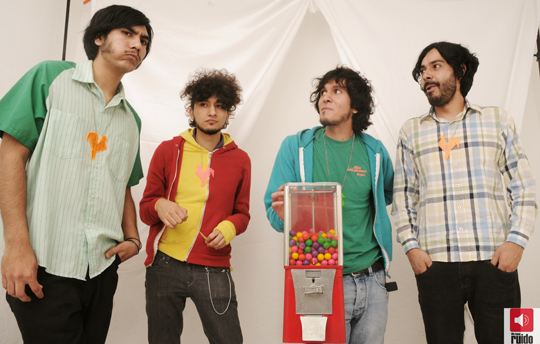 ican group Vicente Gayo mines many of the influences that seem to run through Latin American rock these days, bringing an twitchy, dance-oriented intensity to their punked-out jams.
Alternative pop/rock group Hello Seahorse has gradually grown to become one of the more prominent bands in Mexico. Singing in both English and Spanish, the group crafts well-made, vaguely psychedelic pop songs.
Toy Selectah needs less introduction for regular visitors to this site- the Mexican DJ's last few years have been a whirlwind of activity, working with everyone from traditional northern Mexican musicians to DJ prodigies MTY 3Ball. No matter who he is working with, Toy Selectah's music manages to fuse modern dance music with the organic feel of folk.
Sonido San Francisco is a mix of opposites, the sound of a small Latin town invading the big city, the guacharaca and the güiro sharing frequencies with the synthesizer, the electricity of the bass following the precise tempo of a computer, tropical rhythms collaborating with the tendencies of the digital world, electronic music surrendering to the organic musical tradition of Latin America. Based in Xonacatlan, Mexico, with Mexican and Colombian roots and after nearly eight years of working as a laptop and DJ project, searching for a sound identity between original production and remixing, SSF evolves into a band, giving birth to synth-cumbia in which they combine the subtleness of cumbia and Colombian folk, and the power and kitschness of Mexican cumbia and urban electronic music.
Started in the early 90's, Café Tacvba has been one of the most successful Rock En Espanol groups for over two decades. Over that period, their work has gone through a number of stylistic transformations, moving from funk and rap to incorporate more straight ahead rock as well as traditional Mexican folk music.
To further this exploration of Mexican folk music, Rubén Albarrán, the frontman for Café Tacvba, started the project HopPo. Eschewing original compositions, the album is comprised of covers of songs written by Latin American social activists during the 1960's.